This is the tutorial I'll be using for my BF's Green Arrow Costume. Its the closest thing I could find to sewing and painting, which I've been doing forever. I'm already using craft foam for Charlie's MLP wings and ears. So I have plenty laying around. 
Oh, I was turned on to this little gem about tentacle making by stellarvisionary!! Absolutely brilliant, I am aiming to do something like this, but the scale needs to be MUCH larger. YAY!!
Last year I stretched myself so thin for this CON. I mean, 3 costumes for myself (2 very technical) One for my son and 2 for other friends was waaaaaay to much. I pulled most of them off, but without the help of my dear mother, a few tears,  and a TON of safety pins, It would have never happened. This year I am simplifying, One costume for me (I have a back up for the other days) One for my son, and 3 costumes for my friends. (only one requires more than a few thrift store runs).
Right now it is time to focus on my costume. This years theme is wonder women so I've decided to channel my inner "big girl" diva and go as Ursala. Darling! Why? First, I shy away for doing anything "skinny girl" because it doesn't fit my body type. (although, I will gladly dress a skinny girl!)  Second, she is a wonder woman. I mean that's her trade right? Helping all those poor unfortunate souls? Besides, shes EVIL in the most delicious diva way.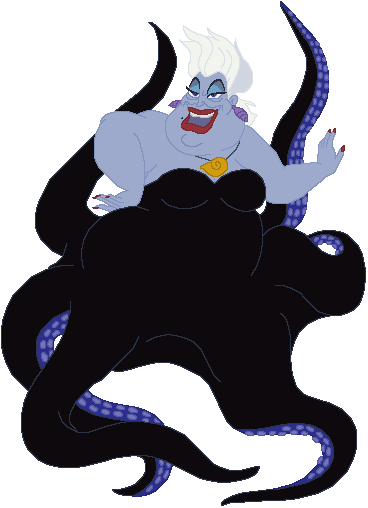 THE WAVES OBEY MY EVERY WHIM!!
Although I love the drag queen-esque style and movement of Disney's Ursala, (Based upon Divine!! Whom I love!) I feel like I want to play a "younger" evil version, Who is a bit slimmer (I'm still curvy, I just don't want to add pounds for a costume, lol) I am thinking of an Ursala as she was before Triton banished her. Still power hungry, campy, but also, more metropolitan.